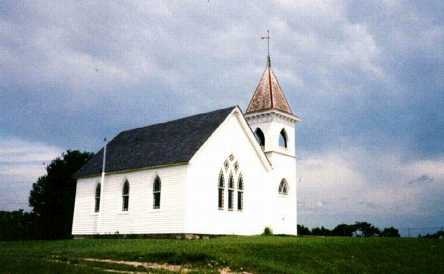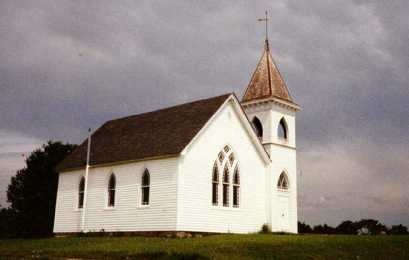 The following article by Norma Jeanneret is published here thanks to the kind help of Mrs Tammy Haynes who sent me the article and also two of the three pictures shown on this page. (Select the images to enlarge).
Fire caused by lightning destroys church
By Norma Jeanneret
In the southwestern part of Nemaha County is a community called Neuchatel. In the early morning hours of April 21, 1994 during a thunderstorm, a bolt of lightening hit the little picturesque church, probably the steeple, and in a very short time the church burned to the ground. The Onaga Fire Department was on the scene but nothing could be done as it was so completely engulfed in flames.
Nothing was saved from the church.
Looking back into the history of the little church community reveals Neuchatel as one of the few purely French settlements in Kansas. It was founded in the 1850's by a little band of French settlers from Neuchâtel, Switzerland who gave the same name to their new home.
In the early 1860's the settlement was visited by a French missionary from the Presbyterian church. He was followed in 1870 by Rev. Henry Morel, who came to Neuchatel with his wife and young daughter from Green Bay, Wisc., and before that, France. He organized the French Presbyterian Church and in 1871 the frst church was built.
A carpenter by the name of Wyler was in charge of the building and the hand carved solid walnut pews, pulpit and bookcase were his handiwork. The pews could be turned either way and were put together with hand-wrought.
In 1905 this church was torn down-the'reason for this is unknown- and the present church was erected. Present, that is, until a few days ago. The pews, pulpit and bookcase from the first church were saved and used in the new frame structure. The high vault ceiling and stained glass window added to the beauty of the little church.
A few years later it was decided to transfer to the Congregational denomination, since it was no longer necessary nor practical for French preaching, and the part-time services were by the Congregational pastor at nearby Onaga.
Many years ago the Neuchatel settlement was a thriving community of many businesses. But time took its toll. People moved away, and all that was left was the church, the stone schoolhouse built in 1971, now the township voting place, the hall where many community get-togethers are held, and also nearby, a little house.
But the church seemed to be the sentinel of all this from its place on the hill with its new coat of gleaming white vinyl siding. Regular services hadn't been held in the church for several years, but for many, close-by and far away, the church was very dear to their hearts.

Monument dedicated to the church, the bell was saved from the flames.  (photo N. Junod 2010).