Witness to Hiroshima
The odyssey of an ICRC delegate Dr. Marcel Junod
© copyright Benoît Junod 2003-2011 and ICRC Archives for some pictures.
Youth, 1904-1935
Marcel Junod was born on May 14th 1904, in Neuchâtel, son of Richard Samuel Junod (1868-1919), citizen of Lignières (NE), of a family of Protestant clergymen [1] , and Jeanne Marguerite Bonnet (1866 - 1952) of Geneva, from the Bonnet family of Thônex next to Geneva which gave birth to the famous naturalist Charles Bonnet [2].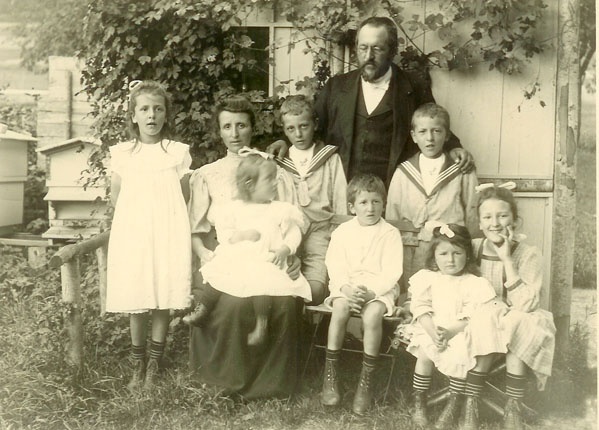 Pastor R. S. Junod and their seven children
His father started his pastoral work preaching in villages of miners in Belgium, sent there by the Independent Protestant Church of Neuchâtel. He then carried out his duties in poor rural and urban parishes, first at Chézard-St.-Martin, near Neuchâtel, and then at la Chaux-de-Fonds. Marcel Junod spent his childhood and school years there, with his six brothers and sisters [3] - he was the fifth child of his parents. Their life was frugal: aged fourteen, he spent his holidays working in a brick factory.
At the death of her husband in 1919, Mrs Junod decided to return to Geneva with her children. Her son Marcel and his two younger sisters obtained at once the Geneva citizenship of their mother, taking advantage of a law which no longer exists today. They settled in the residential quarter of Florissant, where Mrs Junod, to be able to feed her children, opened a family boarding-house, with the help of her sister Marie-Antoinette Bonnet and a small family capital (the Bonnet were reputed watch-case makers from father to son, and had been owners of the Juvéna watch factory in the early years of the century).
Marcel studied at the Collège Calvin (the State High school), where he showed himself to be intelligent and energetic. He had an original turn of mind and a great capacity for communication: he tamed a lizard which he called Chilpéric and which came when he called it. Much concerned by human misery, he took part in the foundation of the 'Journées de la Faim' and in 1922 was one of the directors of the Relief Movement for Russian Children. In 1923, the obtained his baccalaureate ('Maturité') in Latin and living languages (English, German and Italian). He absolutely craved to study medicine, and had preciously kept the manuscript of his father's biology class, meticulously written and illustrated, which dates from 1883.
Student in Geneva
Thanks to the generous help of his uncle, Henri-Alexandre Junod [4], his wish came true: having finished his studies in Geneva and in Strasbourg, he obtained his medical degree in 1929 with a thesis on Psoriasis in the medicine of accidents [5] ".
He decided to specialise in surgery and became an intern in the surgical ward of Prof. E. Kummer at Geneva Cantonal Hospital (today University Hospital of Geneva), then spending four years (1931 - 1935) in the medico-surgical service of the civilian hospitals of Mulhouse, in France, first as intern and the last year, having obtained his diploma in surgery, as head of the surgical clinic, which counted 270 beds.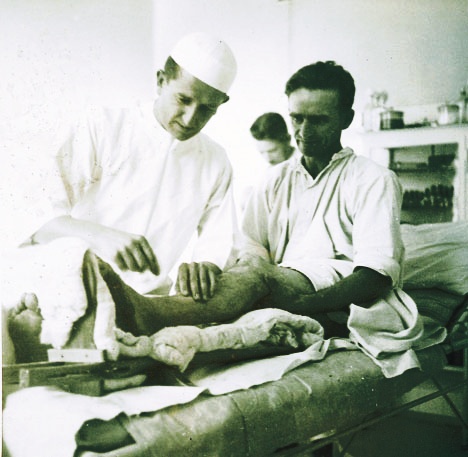 A keen sportsman, his free time was spent skiing, meandering down the river Rhône from Geneva to Marseille in a rowboat, on the Mediterranean, playing golf or on horseback. He was passionately fond of music and played practically any musical instrument with talent; later, his interest focused on the piano, and his teacher was to be his cousin, the great pianist Jacqueline Blancard.
Intern to the civilian hospitals of Mulhouse
---
The Great Conflicts, 1935-1945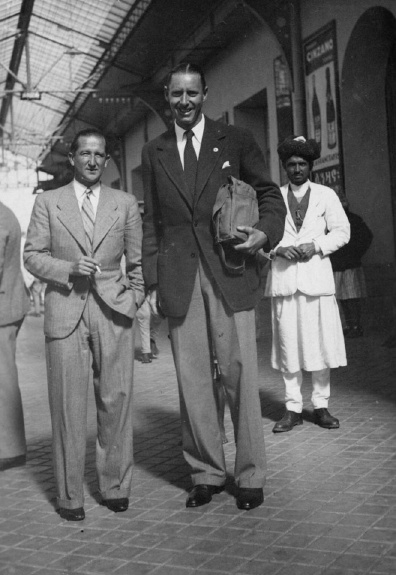 Arrival of Marcel Junod and Sidney Brown at the station of Addis Abeba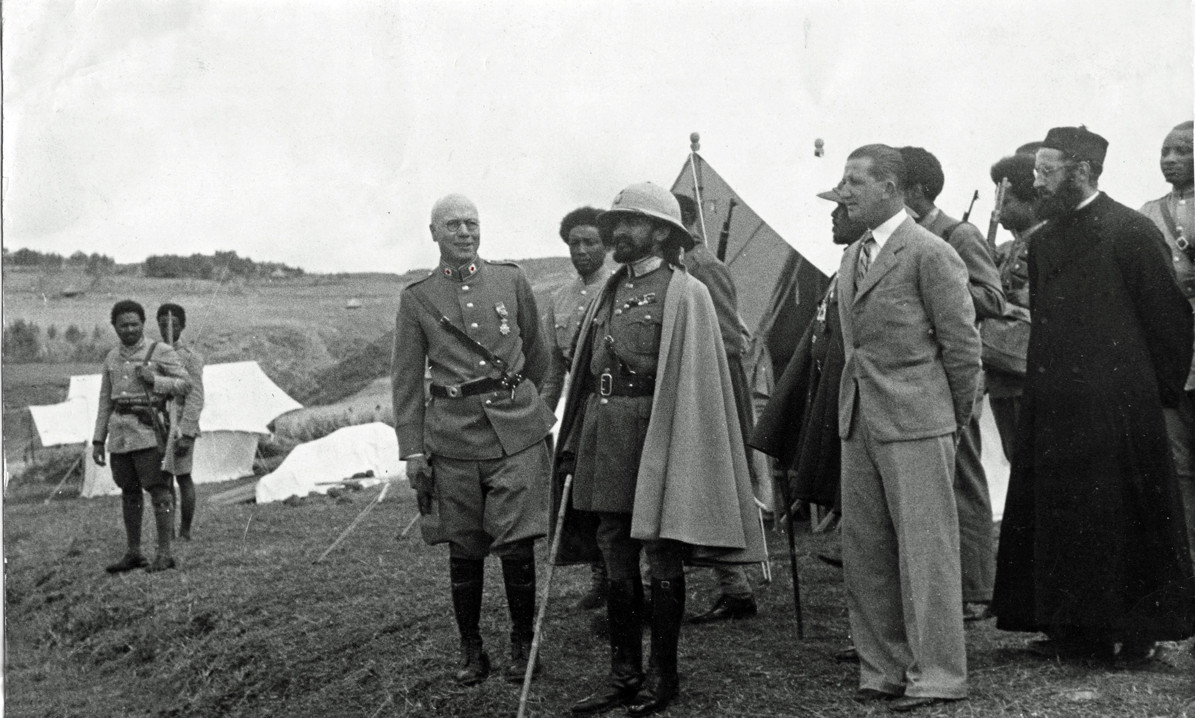 Charles Winckel, HM Haile Selassie & Marcel Junod, early February 1936 in the Dutch Red Cross camp near Dessie, HQ of the Negus
1935. Italy invades Ethiopia. The International Committee of the Red Cross (ICRC) is looking for a young doctor to send to the field. A friend in Geneva passes the information to Marcel Junod and a couple of weeks later the latter leaves for Africa with Sidney Brown and arrives in Addis Ababa.
His book, Warrior without Weapons (first published in French ­ Le Troisième Combattant ­ in 1947 and translated into half-a-dozen languages) is still today the bedside volume of all young ICRC delegates. Junod recounts, with talent and eloquence, the extraordinary odyssey which brought him first to Ethiopia, where he tried to structure the embryonic Ethiopian Red Cross and to assist the local and foreign Red Cross ambulances
A report on the activity of the British ambulance [6] , lead by John Melly, refers to Junod in the following way :
"At Addis Abeba John Melly found a consensus of opinion that we should go north.  In the first place, it was the Emperor's wish. In the second place, it would relieve the political tension.  In the third place, Brown, of the International Red Cross from Geneva, aided by the voluble, forceful and lovable Junod (also from Geneva), would have it so.
'What about the roads?'
'The Grande Route Impériale au Nord is being constructed.'
'How far can we go?'
'You can get to Dessié.'
'And from Dessié?'
' We will make for fly, we will make for mule, we will make for, how you say, les ânes, we will make for anything, mon vieux. Melly - Mellee - listen to me...'
Dear old Junod.
That man spoke several languages. Were there not Red Cross units from seven countries?  But English he could not speak.  'I cannot speak eet, but what can I do. I have always before my eyes the woundeds.  The woundeds, mon Dieu, how they suffer.  They have no any medicaments, they have no any water, they have no any foods. We must give them nourriture, we must give them medicaments.'
And when he spoke like that, sweat poured from his honest face, and true sorrow was in his eyes.
'Stefen, I beg you, think of the woundeds. You have, how you say, the way; make the apologise and go to the North.'
And so the unit was ordered to entrain for Addis Abeba..." [7]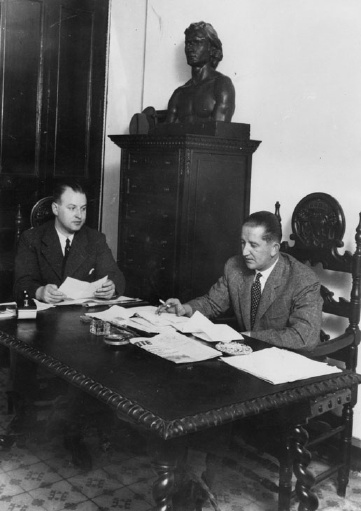 In his Barcelona office with Dr. Roland Marti
After the Italo-Ethiopian conflict was over, he was immediately appointed general delegate of the ICRC in the fratricidal tourbillion of the Spanish Civil War. As such, it establishes with both parties the bases of the ICRC's action and obtains the conclusion of agreements. He negotiates the first hostage exchanges in the Basque country. He then became head of delegation in Republican Spain, with Dr Roland Marti (1909-1978), in Valencia and then in Barcelona. It plays a decisive role in establishing the system for the circulation of family messages (5 million in total). He obtained the release of 5,000 detainees in Barcelona, ​​whose life was threatened during the fighting that preceded the fall of that city.
Pierre Marqués's book, "The Red Cross during the Spanish Civil War", 1936-1939, The Missionaries of the Humanitarian (L'Harmattan, 2000) gives a thorough analysis of this conflict. The author writes: There appears a model of a man of action whose prototype was Dr. Junod, whom his experience designated as a delegate-general.When he arrives, one is struck by the suddenness and speed with which the decision is taken away, the documents accepted and initialed, answers can be put forward, an exceptional talent of negotiator justifying a posteriori the confidence of the ICRC ... Debate of the mission and the skill of the delegate general in the talks, mainly in nationalist zone should not obscure the influence it has had on the doctrine and philosophy (of the ICRC) (op cit cit 378/379).
On the road to Valence...
Léopold Boissier [8] writes: In such a conflict, the Geneva Conventions, then in force, did not give the delegates of the International Committee the means to fully accomplish their mission of neutral intermediary between the two adversaries. Burning with faith, he did more than his duty, and by his incessant interventions on both sides, by his appeal to what remained human in a struggle so far without mercy, he managed to save thousands of lives. he, the condemned were spared, hostages, doomed to death, saved and exchanges [9].  
Among these prisoners, among many others, Arthur Koestler [10]  : It is on the basis of what Marcel Junod has been able to obtain from both parties that standards of protection in the context of civil conflicts have subsequently been developed.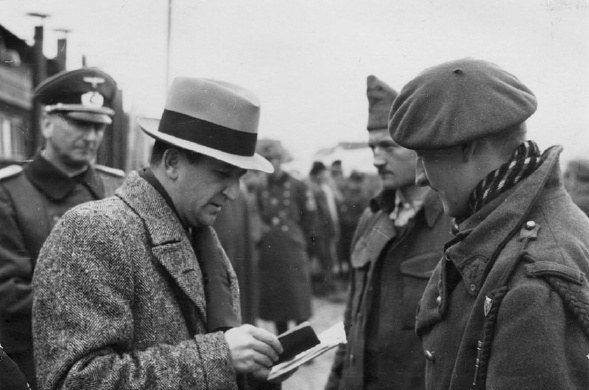 Visit to war prisoners in Germany
When the World War broke out in 1939, Marcel Junod was first incorporated as a medical officer in the health services of the Swiss Army, but a few days later, the ICRC intervened and sent him first to Germany, where on September 27, 1939 he visited the first camp of Polish prisoners of war.
Then, from Berlin, he shines to visit the camps of prisoners of war and interned civilian allies formed in Germany, then in Belgium and France, where he visits German prisoners of war.
In June 1940, he went to France and Germany to avoid the reprisals that threatened Berlin, alleging that the German paratroopers were shot. Claude Pilloud, colleague at the ICRC and friend of Marcel Junod, tells this episode :
In 1940, still young in the Red Cross, I had the privilege of doing a mission under his direction. ... June 17, 1940, when the radio had just announced the request of armistice of the French government, we leave Geneva in the afternoon by car to try to reach Bordeaux and to obtain the authorization to visit the few hundred German prisoners of war whose treatment was to determine that of hundreds of thousands of French prisoners of war. In an atmosphere of break-up, we make our way through the masses of refugees cluttering the roads. But Junod is not discouraged; he drives all night and refuses to rest: it is necessary to act quickly and intervene before the German troops release the prisoners. Finally, after two days of driving, we arrive in Bordeaux; Junod finds the leaders, convinces them, and the next day we visited the camp of the German officers and we were able to communicate reassuring news in Geneva, then immediately afterwards, we visit other camps and go back home, tired, to Geneva. But he does not stop and immediately leaves for Berlin where he will plead the cause of the French prisoners of war. (Journal de Genève, 18.06.61.)
Shortly after, Junod instituted the exchange of information between French prisoners of war and their families, often displaced, by the clearing of the Prisoners of War Agency. He obtained from Berlin that all prisoners should be allowed to send the Agency a second "catch advice card".
In 1940, he went to London with Miss Lucie Odier [11] ,
at the time of the air blockade and bombings, to organize the transport by sea of relief for prisoners of war in Germany. He travels to Sweden, where he and the Swedish Red Cross set up a huge rescue action for the hungry Greek population.
September 1941, he went to Turkey to establish a relay of the Agency assigned to the conflict of Eastern Europe; from there - he returns to Ankara twice - he is involved in promoting the sending of food relief by boat to Greece. He went on a mission to Athens to organize the hospitalization of Greek children in Egypt and Crete, where he visited prisoner-of-war camps in the hands of the Italians.
During his third mission to Turkey, he is mandated by the ICRC to seek to solve the problem of Soviet prisoners in Germany, and Germans in the Soviet Union [12] .
He then returns to Berlin and Stockholm to amplify the relief action in Greece. Then he rejoins his post in Berlin, constantly fighting for the respect of the rules of the humanitarian law and for their enlargement.
Exhausted by four years without respite, he detached himself from the ICRC and lived in Geneva from 1943 to 1944, as a medical expert for the district of the Swiss National Insurance Company against accidents and occupational diseases.
At the time of his departure, Max Huber wrote to him:
Although knowing your determination and fully approving the motives, we feel, now that the time of separation is approaching, what your departure makes us lose.
For you have been, dear doctor, during these seven and a half years, one of the most faithful and most devoted servants of our work. Always in the breach, always ready to leave, overnight, for distant countries, in often difficult and sometimes dangerous conditions, you have never refused your assistance.
In Africa, Spain, and then during the second world war in various European countries, you have successfully completed many important and delicate missions.
Your manners of action, your energy made you overcome many obstacles and allowed you to return to the Red Cross eminent services.[13]
Huber adds, after wishes of success, The fact that you are willing, if we wish to use your services in the next few months and later, to continue to provide us with some collaboration, as far as your professional obligations will permit, is very pleasant to us. We are happy to be able to count on your dedication again and I thank you for it. A few months later, Max Huber appealed to Junod ... who returned to the ICRC, where he worked for a year at the Geneva Headquarters. In December 1944, he married Eugenie Georgette Perret (1915-1970), who worked at the Prisoners of War Agency in the British service.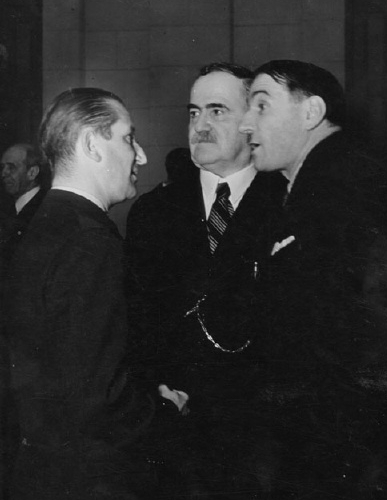 At ICRC HQ, with Max Huber and Pilet-Golaz (Swiss Min. of Foreign Aff.)
In June 1945, Marcel Junod had to leave his pregnant wife in Switzerland, because again the ICRC sent him on a mission to Japan to replace Dr. Paravicini, who had died more than a year earlier. He went to the Far East by the trans-Siberian, and managed to obtain from the Japanese to visit, in Manchuria, Generals Wainwright and Percival, as well as other American prisoners in the hands of the Japanese.
Hiroshima, 1945
On August 9, 1945, he arrived from Manchuria in Tokyo with his collaborator Marguerite Straehler. Having lived in Yokohama for a large part of her youth, where her father was established as a businessman, Miss Marguerite Straehler (1898-1961) played a key role in the logistics of the ICRC delegation as soon as she arrived. in Tokyo, because she had a great deal of technical experience working for prisoners of war, having been in the ICRC Central Prisoner of War Agency since 1939 and leading the American PG Service in Japanese hands. She spoke fluent Japanese.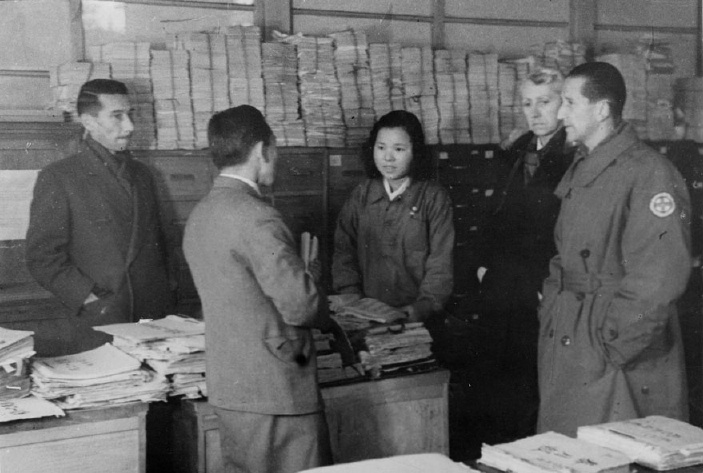 At the time of their arrival, the ICRC delegation in Tokyo had been without a chief for two years, and was inoperative. Alerted by rumors that two nuclear bombs have exploded in Japan and a humanitarian drama is taking place in Hiroshima, he does not get precise information: the Allied High Command has blacked out the event and banned the zone to foreigners [14].
Overwhelmed by censuses and emergency relief to Allied prisoners of war - a priority work of protection in the hubbub of surrender. On 29 August the Evening Standard in London was titled: Japs give us full list of prisoners and subtitles: The names of prisoners of war and internees from the Tokyo area are now in the hands of the Allies: the list was given today by Dr. Marcel Junod, the Swiss delegate of the International Red Cross in Tokyo.
The same day, Marcel Junod sends a Swiss businessman living in Japan to Hiroshima, accompanied by an attaché of the Swiss Legation (Markus Weidenmann, 1910- ??) and a Japanese interpreter, asking him to report , and gets the necessary permissions. The next day, August 30 he receives a cable 
describing the extent of the disaster:
"6 SUZUKI FOR JUNOD STOP I VISITED HIROSHIMA THIRTIETH CONDITIONS APPALLING STOP CITY WIPED OUT EIGHTY PERCENT ALL HOSPITALS DESTROYED OR SERIOUSLY DAMAGED INSPECTED TWO EMERGENCY HOSPITALS CONDITIONS BEYOND DESCRIPTION STOP EFFECT OF BOMB MYSTERIOUSLY SERIOUS STOP MANY VICTIMS APPARENTLY RECOVERING SUDDENLY SUFFER FATAL RELAPSE DUE TO DECOMPOSITION OF WHITE BLOOD CELLS AND OTHER INTERNAL INJURIES NOW DYING IN GREAT NUMBERS STOP ESTIMATED STILL OVER ONEHUNDREDTHOUSAND WOUNDED IN EMERGENCY HOSPITALS LOCATED SURROUNDINGS SADLY LACKING BANDAGING MATERIALS MEDICINES STOP PLEASE SOLEMNLY APPEAL TO ALLIED HIGH COMMAND CONSIDER IMMEDIATE AIRDROP RELIEF ACTION OVER CENTRE CITY STOP REQUIRED SUBSTANTIAL QUANTITIES BANDAGES SURGICAL PADS OINTMENTS FOR BURNS SULFAMIDES ALSO BLOODPLASMA AND TRANSFUSION EQUIPMENT STOP IMMEDIATE ACTION HIGHLY DESIRABLE ALSO DESPATCH MEDICAL INVESTIGATING COMMISSION STOP ... " [15]
The same Thursday, August 30, Junod receives from the Gaimusho, the Ministry of Foreign Affairs of Japan, a series of photos of Hiroshima and Nagasaki. These are the ones, to which will be added others that he will receive in Hiroshima from Dr Matsunaga, which he will bring back to Geneva in 1946.
On Saturday, September 1st, at the New Grand Hotel in Yokohama, he sees Generals Wainwright and Percival, General Fitch, Colonel Marcus, General Farrell and Col. Oughterman. It certainly raises the issue of rescue for Hiroshima and probably also for Nagasaki, but must wait until Tuesday, September 4, to be able to make a formal approach to the High Command with General Fitch and Chief Surgeon Colonel B. P. Webster. He urges them to launch a rescue operation. On the strength of his service to the Americans with Wainwright in Manchuria, he obtained the question to be submitted urgently to General MacArthur who, three days later, authorized him to go to Hiroshima with a US military commission. medical investigation, two Japanese doctors, and twelve [16] tons medicines and sanitary equipment. He flies out on September 8th :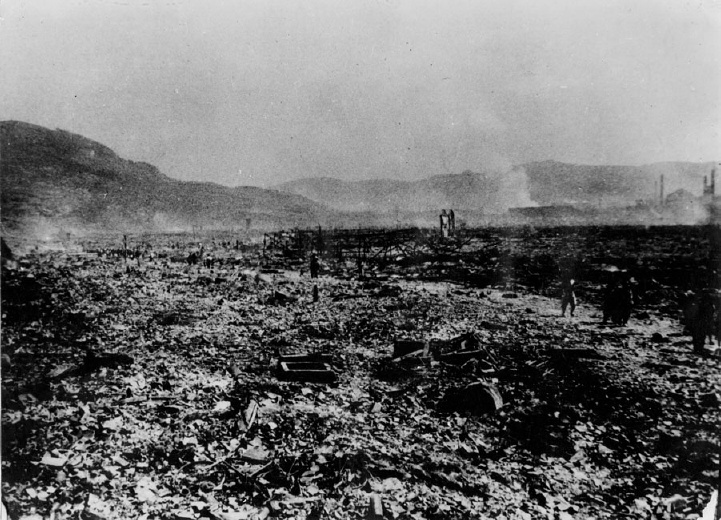 One hour after takeoff we followed the coast to the East of Fujiyama, not far from its imposing crater, and overflew the great cities of Japan, Nagoya, Osaka, Kobe which looked to me as huge stains of rust with here and there rare areas which had escaped the usual fire. But this view, although impressive, cannot be compared to the unbelievable sight of the desert of Hiroshima. From up in the sky, this city of 400,000 souls, the town of seven rivers, built on the delta of the Okatawa, seems to have been swept by a supernatural force. Nothing remains but a vast white spot, with a brown belt around it, a remnant of the incendiary fire which followed the atomisation. Far away, near the harbour, a few rare buildings seem untouched, as they were protected by a small hill. After overflying the city, the planes descended rapidly and ten minutes later we landed on the airport of Iwakuni, an old Japanese naval base. The medical supplies are unloaded and General Farrell, chief of the mission, hands them over to me. There is no inventory, but the weight is estimated at fifteen tons. I entrust them to a Japanese naval officer and go that same evening to the Japanese military district where the officers are preparing the visit of the city for the following day. Sunday, September 9th, we visit the devastated city and listen to the accounts of various witnesses…" [17]
Marcel Junod spent five days in Hiroshima, visiting all the hospitals, ensuring optimal repartition of the medical supplies, checking what was missing and obtaining further ones, and taking part himself directly in urgent medical care as a surgeon [18] .
As the infrastructure of Hiroshima was completely destroyed, he slept on the beautiful island of Miyajima, spared by the bomb and also by a typhoon which killed a further 4000 people in Hiroshima a few days after the nuclear explosion…
Marcel Junod kept annual diaries (newspapers) in which he accurately noted his professional activities. The chronology of the events of this period is confirmed as follows:
Tuesday 4.9: "see my diary ... so much to do, no time to write, go to General Fitch for Hiroshima, big troop arrival - bulldozer for action.
Wednesday 5.9: Alexis Johnson, Consul.
Thursday 6.9: Col. Sams gives me a copy of a memo sent to the Gov. (erneur) Jap. (Onais) Sends 12 tons of drugs under our control.
Friday 7.9: Prof. Tzusuki, Dr. Motohashi, Cape Town Flick, Cape. Nolen, Gen Farrell, Gen. Newman, Morrison physicist, Col. Oughterson (?). Lying at Myashima, shrine island.
Saturday 8.9: Departure for Hiroshima at 9 1/2. Arrival Gen. in Tokyo. Arrival on Hiroshima at 12h. Scene of G. Me. (?) Fair enough. Arrival IWAKUNI airfield. Drugs deposited. Lying Myashima.
Sunday 9.9: Hiroshima visit. Hospitals, see personal notes. Bomb Hiroshima, the vast city, fallen at 8:15, August 6. At the station, the clock stopped figures marks the exact time.
Monday 10.9: Received by Gov. Hiroshima Gensho Takano, Dr. Kitajima, Min. of Public health. The governor lost his wife. He seems stunned by this whole thing and has prob. refused to receive the gentlemen am. My journalist lost his brother and sister.
Tuesday 11.9: Dr. MASARU MATSUNAGA. Visit the shrine of Miyashima Island. Visit Hiroshima hospitals and medecis, returned Miyashima.
Wednesday 12.9: This morning saw the complex cases Hiroshimite - actually a syndrome. Japan possessed more the secret than power. Dr. Nakad, Imp. University. Onomichi
Thursday.13.9: Evacuation of the camps Tamano, Zentzuji, Mihama, Balian, truck, red cross car - All in order. Good work. at UNO.
Friday 14.9: Departure Onomichi. Arrival Osaka by special wagon. Seen at night Johnson and arrange him S.C. Chinese and Greeks distribution by Brunner (?)
Saturday 15.9: Back to Tokyo 18.30
This humanitarian action brought him the honour of being the only individual who has a monument to his memory in the Hiroshima Memorial Peace Park. The seventy-odd photographs he brought back to the ICRC are amongst the first images of the tragedy which reached Europe. In 1982, the ICRC published a text by Marcel Junod on this period in the Review of the International Red Cross entitled The Hiroshima disaster [19].
The after war, 1946-1952
Marcel Junod stayed in Japan for several more months, until April 1946, to continue his task as head of the ICRC delegation before returning to Switzerland, dealing with the evacuation of prisoners. His son was born on October 26, 1945, while his father was still in the Far East [20].
In 1946, the United States Legation in Bern contacted the Department of Foreign Affairs to inform them that Washington wanted to award the Medal of Liberty to Marcel Junod. The note states the quote :
For his exceptionally meritorious conduct in the performance of extraordinary services as a Swiss citizen at the service of the International Red Cross, in connection with the location and evacuation of Allied prisoners of war after the surrender of Japan in August 1945.
Landing on the coast of Japan on 9 August, Dr. Junod quickly made contact with collaborators who were aware of the location of internment camps and prisons throughout the Japanese Empire and, at the The arrival of the Third Fleet on 28th August provided accurate and detailed information which allowed our planes to launch food and clothing to internees pending their release. In addition, he accompanied officials in the first boat to release the prisoners of war at Omori camp, he assisted as a guide and interpreter in the early liberation work and rendered any possible assistance in the release of other prisoners. of war in widely scattered places. Through his administrative faculties, his aggressive determination, and his conscientious efforts in favor of our compatriots, Dr. Junod served as an inspiration to everything and contributed greatly to the prompt release of Allied prisoners of war from Japanese prisons.
The Swiss authorities immediately replied that as Junod was bound to military service - he was 42 - he was forbidden by the Federal Constitution to accept a decoration from a foreign government. Washington does not insist and abandons its project. Junod never knew of this attempt to pay him homage [21].
In the summer of 1946, as all the delegates were no longer working, the war was over, he left the ICRC and resumed his profession of doctor, to refine his surgical specialization. From September 1946 to July 1947, he did an internship at the Laennec hospital in Paris in the department of tuberculosis and thoracic surgery of Professor Robert Monod. To save money - he is not one to save money - his wife and son stay in Switzerland and he lives in Paris with his sister Mado and her husband, Dr. Maurice Cord. Through this last - man of great culture, with many contacts in the arts - Junod becomes friends with the Russian painter Pavel Chelichev, the writer Cilette Ofaire, Colette and others.
It is during this period that he writes Troisième Combattant, typing the manuscript himself to the machine, because he has no secretary. Max Huber [22] agrees to write the preface, and the book is published by Payot in French and by Europa-Verlag in German, followed very quickly by an edition in Swedish and later of English and American editions (1951). Subsequently, Japanese and Dutch editions were published, as well as in Serbo-Croat (1994). The Spanish edition was published after Franco's death. Today it is the ICRC that manages the stock of the book, which remains available in English / French / Spanish. The publication of the Troisième Combattant was widely commented by the Swiss and international press and the first edition in French was exhausted in three months.
At the end of his internship, Marcel Junod gets a grant from the Swiss-American Foundation to further his thoracic surgery studies in New York and leaves with his family for the USA in October 1947. He will spend all his free time with them at Valley Cottage, north of New York, where his cousins ​​Maurice Heaton (1900-1990), artist and glassworker, live, and his wife poet and photographer Berenice van Slyke (1894-1979). But just after his arrival, he sees Maurice Pate [23] , he knew from Geneva, at Lake Success near New York where UNICEF has just been created. The latter convinced him to give up his scholarship and to join UNICEF as a Liaison Officer.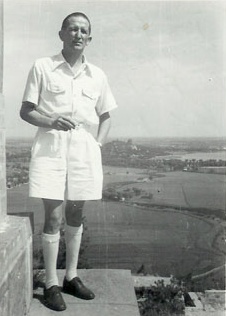 On December 19, 1947, Junod was appointed Head of Mission to the World Institution for Children in China, and left in late January 1948 for Nanjing, where his family joined him by boat via the Philippines. He moves to Beijing, then Shanghai, seeking to accomplish his mission in the complex political context of the Chinese revolution [24] . 
It was widely known that UNRRA, the main UN organization in 1946-47 in China for relief, had squandered its two-year budget - more than US $ 500 million - because of the war the post-war 1945 disorganization, the Chinese administration, inflation, corruption, etc. Junod had a budget of US $ 12 million ... to rescue 67 million children, a figure that grew by 16 million each year, less four to five million newborns who died of tetanus at birth for lack of hygiene. The aid was mainly used to support the actions of the best established charities and within a few months UNICEF child feeding centers were open in a dozen major cities in China. But the situation was desperate: one doctor for every 30,000 inhabitants, none of them outside the cities; 15,000 hospital beds for 450 million people, less than in the city of London at the time.
Marcel Junod wanted to mount a campaign to vaccinate children against tuberculosis, which was devastating ... but he had five teams of capable doctors and as many nurses. He saw only cases of resource squandering [25].
In addition, although he had the opportunity to open a North China Mission with two experienced doctors, Dr. Leo Eloesser and Dr. Perry Hanson, he was frustrated that he could do little for the children in the Communist territory.
In a letter to Maurice Pate in the summer of 1948, quoted by Hanson (op.cit.), Marcel Junod wrote
This mission is the most difficult I have ever had to face because its success does not depend on you or myself, or even the Government or the volunteer agencies, but the unlikely circumstances in which this country is today.
However, Hanson notes, op.cit, 25:
Before the middle of the year, so less than four months after his arrival, Marcel Junod had established formal and working relations with the Government, he had established a UNICEF office in the capital as well as local offices in several other cities, with staff in place or being recruited, and the groundwork was laid for UNICEF's work in North China.
Leo Eloesser, a physician whom Junod had brought from WHO to assist him in his task, wrote to Pate on June 16, 1948, that Dr. Junod took care of the situation with extraordinary skill and sagacity...
Mandated by the Executive Committee of UNICEF, Marcel Junod also carried out a four-day mission in August 1948 to Korea to carry out a flash analysis of the situation. His Mission report [26] was the basis for UNICEF action in South Korea a few years later.
On January 22nd, 1949, Marcel Junod, whose health is shaky, goes to New York for the meeting of the Executive Council of UNICEF. His condition worsens abruptly and doctors diagnose a strong arterial calcification of the left leg, which makes any movement difficult. Marcel Junod's son, who is three and a half years old, has severe amebiasis, Pate brings the family back to New York [27].
In any case, the mission was ending in May 1949. Junod brings back from China more than 80% of his budget to Maurice Pate, unspent, and says that it would have taken him ten years and a budget a thousand times higher to be able to accomplish something really useful.
Marcel Junod still worked at UNICEF for two months and his son was being cared for at Mayo Clinic. But in April, he could hardly walk and returned to Europe urgently, because all the medical examinations in New York remain inconclusive. In Geneva, it is his friend radiologist Pierre Bardet who finally diagnoses a huge cholesterol cyst in the femoral region, coupled with calcification of the iliac. On May 12, 1949, in London, Junod was operated by Sir Horace Evans. His convalescence is slow and he has to give up a high position at WHO. He understands that he will never fully recover and that it will deprive him of his job as a surgeon, unable to stand for long periods of time to operate. He reflects and finds a medical discipline that he could exercise sitting: anesthesia, which was in its infancy in continental Europe.
Despite his state of health, he went to Paris in October 1949 and did internships in this discipline at hospitals Cochin and Brousset. He graduated as an anesthetist from the Faculty of Medicine in Paris, but in February 1950, he had to undergo a second operation of his leg, at the hands of Leriche in Paris.
Knowing that the Anglo-Saxons - and especially the English - have a great head start in the field of anesthesia, especially in France, he renounced, in May 1950, a scholarship to the United States. United and chooses to go to London, where he lives with his sister Milou and her husband Victor Ceresole, where his wife and son join him.
His nephew Peter Ceresole remembers his uncle's stay: In his room on the first floor, he had a chalkboard on which he made anatomical drawings in colored chalks, and even now I can not see an anatomical drawing without to think of those he was sketching, and the blackboard in this room, he walked every day to make his leg stronger, we lived in Addison Crescent and the street was a side of a triangle, he was leaving from our door. entrance and went to the left, walking as far as he could, then coming back in. At first he only went to the corner with Addison Road, then he disappeared around the corner for longer and longer excursions. always coming back from the left, then one day he appeared from the right, he had gone around the entire triangle, he was visibly delighted, and I remember we celebrated the event.
At the Middlesex Hospital, Marcel Junod studies with Profs Bernard Johnson and A.J.H.Hewer [28] , to whom he became "Clinical Assistant" from August to November 1951, when he graduated from F.F.A.R.C.S. [29]
Back to Geneva, 1952-1961
Having had the great honor of being awarded the Grand Gold Medal for Peace by Prince Carl of Sweden in 1950 for his humanitarian work [30] ,
Marcel Junod returns to Geneva in 1951.
The return of London is made in Fiat Topolino with his nephew Peter Ceresole, who remembers that they brought back a new anesthesia equipment, stainless steel, a sort of chipboard gas tubes and mixer taps on wheels The weather was superb, at that time of exchange control and tariffs, he had a logbook for his equipment, and there were also curare ampoules - this product being part of the car. research into new applications of total anesthetic control - which caused an unlimited interest and excitement to customs officers.I think we arrived via St-Julien.I remember that crossing the Jura (the Topolino was quite slow on the climbs) we greeted all the pretty girls we see shouting and waving our arms.
Marcel Junod rents a house on the lake, "Le Clapotis", on the ramp of Vésenaz. He gets his FMH, and settles as anesthetist. In 1953, he managed to convince the medical authorities that it is essential to create an anesthesia department at the Cantonal Hospital, and offers a structure that also allows the training of young anesthetists. His proposal is accepted [31]
and he will lead this department and practice medicine - his primary vocation - until his death.
Junod did not lead his department without having to fight to make it happen. Many surgeons, particularly French surgeons, considered anesthesia to be a nurse or second-class doctor. When, in addition, the anesthetist was himself a surgeon, friction was inevitable - which was the case not only of Junod, but also of his assistant in the Department of Anesthesiology of the hospital, Dr. Bertrand Bronner. Junod will also require that his replacement, if necessary, be Dr. Pierre Koenig who studied anesthesia in England at the same time as him, but Oxford with Sir Robert Macintosh. This ensured the continuity of the application of English methodology in the Department of Anesthesiology.
He participates in many medical conferences, publishes numerous research papers and gives several lectures on his specialty, as well as on the medical effects of the atomic explosion.
When he manages to escape on vacation, he returns to Spain where he kept friends in Barcelona from the time of the Civil War [32].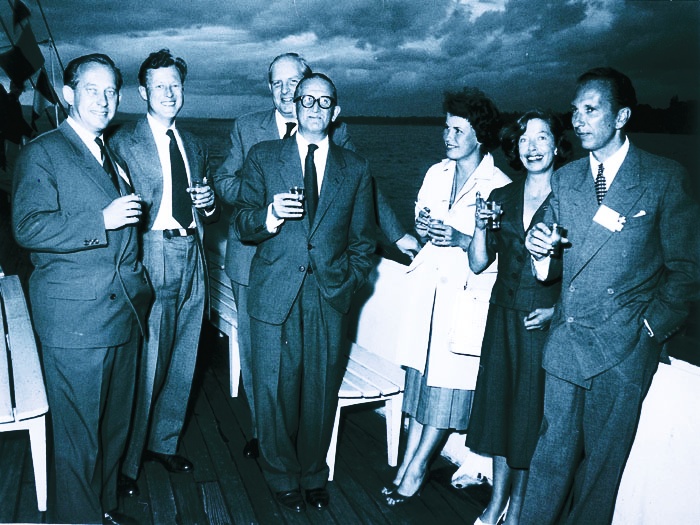 On December 12, 1960, he gave his inaugural lecture of privat-docent in anesthesia, at the Faculty of Medicine of the University of Geneva on "Fluothane, its pharmacological actions and its clinical applications." He is launching the entire organization of a first major congress of anesthesiology in Geneva bringing together the Swiss, German and Austrian societies. It will take place from 8 to 10 September 1961 [33].
On October 23, 1952, the International Committee of the Red Cross invited him to become a member of the Committee; his knowledge of the field and his qualities of doctor will make him elected in 1959 Vice-President of the institution.
Also in 1952, Marcel and Jo Junod are looking for a house to buy in the Geneva countryside. He is a close friend, Raymond Deonna [34] , who indicates to them an old farm at the bottom of Lullier, on the Commune of Jussy, which is for sale. In early 1953, they settle there. The tranquility that Marcel Junod knows allows him to cope with the double life he leads between the hospital and the ICRC. In his speech at the funeral of Marcel Junod, Leopold Boissier said When, after a long journey, he received you in his garden Lullier, he invited you to look at the plain and murmured :  how beautiful it is. And, in In fact, the flowers looked more beautiful, the wheat more golden, and the horizon, beyond the Vuache, brighter. For Marcel Junod, who had seen so many terrible things, God had preserved all the beauty of the world.
Although he had difficulty walking and moving with a cane, in 1957 Marcel Junod carried out a mission to the ICRC in Vienna and Budapest from 11 to 19 June as part of the relief efforts after the crash of the Hungarian uprising of 1956 and went to New Delhi for the International Conference of the Red Cross and Red Crescent, then on mission in Cairo. He participated in the ceremonies of the centenary of the Battle of Solferino in 1959.
The same year Marcel Junod is on a mission for the Red Cross in Japan in the context of the controversial issue of the repatriation of Koreans: some 600,000 Koreans still lived in Japan in the middle of the last century, a large remainder of those who go there. were installed after the Japanese annexation of 1910. Economically weak, some of these people wanted to return to North Korea, others in South Korea and some not at all. To solve the problem, appeal was made to a neutral institution, the ICRC. But part of the Japanese opinion and also some of the Koreans did not want the intervention of foreigners, which earned Marcel Junod an arrival route by car from the airport in the city marked with banners "ICRC go home! " and others - his role in Hiroshima was known - with Welcome Dr. Junod! [35]  
The problem was successfully solved in 1959/1960.
In 1960, he accompanied the ICRC President, Léopold Boissier to Poland and the USSR, and still carried out a long mission - the last one - in the Far East (Taiwan, Thailand, Hong Kong, South Korea, Japan), Canada and the United States. USA, visiting National Red Cross Societies.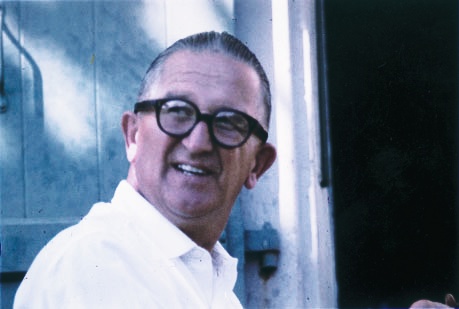 On June 16, 1961, while discharging a patient from anesthesia at the hospital, he was struck down by a heart attack. He is buried in the cemetery of Jussy, according to his will [36] ; the ICRC receives more than 3,000 messages of condolence from all over the world. Having received a large number of National Red Cross honors during his lifetime, he is awarded the Sacred Order of the Treasury of Japan posthumously [37].
The monument in the Hiroshima Peace Park was erected by subscription in 1979, on the initiative of the Hiroshima Doctors Association, following the publication of an article by Dr. Matsunaga entitled "Dr. Junod - a benefactor of Hiroshima - an unknown episode "in the August 1978 volume of the Japanese monthly journal" Hujin ko-ron ", pp.190-197. The article provoked a rediscovery of the action of Marcel Junod and an awareness of the fact that it had been beyond the simple duty by mobilizing the relief for the victims of the atomic bomb. At the same time, journalist Y. Ohsako published a biographical narrative entitled Valiant without arms; the Life and Personality of Dr. Marcel Junod, Tokyo 1979, 209 pp..
Since then, the anniversary of his death is the subject of a commemorative meeting every year in front of the monument, to which the local authorities, the Hiroshima Physicians 'Association, the boys' choir of the city, as well as the victims still alive - the hibakusya, fewer and fewer - take part.
At the funeral of Marcel Junod, President Boissier wanted to testify to the most accomplished delegate of the International Committee of the Red Cross. I say the most accomplished, because in the numerous phalanx of those who have spent or are still trying to rescue the victims of wars and internal troubles, none has experienced so many experiences, none has had so much of opportunities to manifest his gifts of selflessness, courage and humanity.
Afterword
This brief biographical note would perhaps remain too dry and factual if I did not add some personal impressions of this father whom I lost when I was fifteen, just as he lost his own at the same age.
Marcel Junod has always lived in the heat of the action and in the gift of himself for his neighbor. When I was little, my mother had to explain to me that her absences were inevitable, that I had to share it with everyone for whom he was working. It was not easy for her either.
At the age of five, in 1950, I spent the winter in Crans-sur-Sierre, recovering from a health problem. An English couple sees me playing alone in the snow in front of the chalet, my mother being inside.
"Hello, little boy, what are you doing here in the snow?"
"I'm building an igloo, but I'm thinking of the 100'000 dead of Hiroshima."
Stunned, they ring at the door to ask who this child is.
As soon as we moved to Jussy in 1953, I had the impression of enjoying much more of my father. He loved gardening and patiently taught me how to distinguish and pull out weeds, sowing radishes, discovering birds - he whistled wonderfully and imitated the blackbirds who came to eat him in the hand. Nature fascinated him and he took advantage of the countryside, although his farming efforts were not always successful: I remember a barrel of mirabelle plums installed in the garage and inadvertently closed with a cork that exploded in the middle of the night, covering the whole garage of a stinking purée yellow-green in fermentation ...
His work fascinated him; he was at once fast, meticulous and tireless. His days began early in the hospital, and he dropped me off at school, deserted except for the cleaners, at a quarter to seven. In the evening, I was anxiously awaiting his return home, sometimes delayed by 'committee meetings'. He sat down at the piano and relaxed playing an hour or two - Chopin, Schumann, and Bach, still Bach. The living room resounded, then, with his laughter and those of the guests who were constantly parading. His costume always smelled like hospital and Gauloises. He loved all the latest inventions and we had one of the first televisions in the canton. A trip with him necessarily meant a cultural stop somewhere to visit a Romanesque church or a good restaurant. He never lost his appetite for beauty, novelty, curiosity for the world around him.
A quality that I especially enjoyed at my father's house was his patience and extraordinary availability - which are characteristic of a good doctor. He was always attentive and ready to give an objective opinion, if consulted, which earned him to have friends everywhere and from all walks of life. He had two beasts of darkness: injustice and fanaticism, saying that the first was often the result of the second.
For my fourteenth birthday, my father invited me to lunch, among men, at the Restaurant 'The Globe'. I still remember the white starched tablecloth, heavy silver plated services and Nantua pike dumplings. Especially the privilege of being alone with him, of having it all for me. We talked about my studies, my interests for the future, his work. For the next birthday, he was gone.
His book, The Troisième Combattant, is dedicated to his father's memory. These few pages, I offer them in memory of mine:
Benoît Junod
Brief bibliography
Black, Maggie, The Children and the Nations; the story of UNICEF. Unicef ed. 1986, 506pp. (Chap. II, pp 56-59 en particulier)
Courvoisier, Raymond, Ceux qui ne devaient pas mourir, Laffont ed. 1978 (Collection Vécu)
Durand, André, De Sarajevo à Hiroshima, histoire du Comité International de la Croix-Rouge, Inst. Henry-Dunant, ed., 1978
Hansen, Perry. O., Jr, UNICEF in China, 1947-1951, msdact. 1984, 125pp. Archives Unicef ss cote cf-hst-073-unicef-in-#841FB
Junod, Marcel, Le Troisième Combattant, Payot ed. 1947, etc.
Marqués, Pierre, La Croix-Rouge pendant la Guerre d'Espagne (1936-1939) Les missionnaires de l'humanitaire, L'Harmattan, ed. 2000
Ohsako, Y, Valiant without arms; the Life and Personality of Dr. Marcel Junod, Tokyo 1979, 209 pp.
Notes
[1] Richard Samuel's father, Henri Junod (1825-1882) was a pastor at the Collegiate Church of Neuchâtel ('Marie-Adèle Dubied, 1833-1907). Their other children were Ruth Adele (1858-1901, 'Paul Berthoud, pastor, missionary in South Africa); Rose Henriette Elizabeth (1861-1940, Diaconesse in Strasbourg then Director of the Pourtalès Hospital in Neuchâtel); Rose Marie (1862-1938, 'Clement Heaton, artist, master glassmaker); Henri Alexandre (1863-1934, famous ethnologist, pastor and missionary at the Transvaal, author of the first dictionary of the Tsonga language, '1. Emilie Biolley, 2. Sophie Kern); Charles Daniel "Cinebref" (1865-1941, Pastor, President of the Committee of the International Blue Cross Federation 1929-1941, 'Marguerite Robert-Tissot).
[2] Swiss Genealogical Collection, First Series (Geneva), Volume 2, pp. 49 and ss. Having discovered parthenogenesis and carried out researches which remain classical on the transmission of knowledge in the flatworms, Charles Bonnet (1721-1786), become blind by abuse of the microscope, dictated to his secretary two remarkable volumes of philosophical palingenesis. wikipédia link
[3] By order of first birth: Gabrielle (1899-1992, 'Philippe Hahn'), Pierre (1901-1973, 'Francoise Burgy), Samuel (1901-1980,' Marie Hélène Rouvé), Madeleine ('Mado', 1903-1990, 'Dr Maurice Cord), Marie Louise (' Milou ', 1907-1993,' Victor Ceresole), Claire Annette ('Clairette', 1908-1993, 'Georges James Favre-Bulle)
[4] See footnote 1. His son, Henri-Philippe (1897-1987), also carried out missions for the ICRC.
[5] In 1944, having not practiced medicine since 1935, he will represent a thesis entitled: "Psoriatic Arthropathies and Trauma in Accident Medicine."
[6] St. Bartholomew's Hospital Journal, Sept. 1936 pp. 223-225. The author is Captain R. Townshend-Stevens.
[7] Junod's English will make progress. But in 1952, the President of the British Red Cross, Angela Countess of Limerick, remarked to him that he had unusual turns of phrase. He confessed to learning English by reading Perry Mason, Earl Stanley Gardner and Agatha Christie ...
[8] 1893-1968, President of the ICRC 1955-1964
[9] Speech at the Funeral of Dr. Marcel Junod, 20 June 1961 (ICRC Archives)
[10] Koestler talks about Marcel Junod in his Spanish Testament, in Darkness at Noon, and in Dialog with Death.
[11] High personality of the Red Cross and later member of the ICRC Committee
[12] The Soviet Union had been party to the 1929 Convention on the wounded and sick since 1931, but had neither signed nor ratified that on prisoners of war.
[13] Letter in BJ archives
[14] It will only be a year later (September 10-13, 1946) when John Hersey publishes a great article in the New York Herald Tribune (from New Yorker magazine), that the American population will really get acquainted with the extent of the horror of the Hiroshima and Nagasaki nuclear bombing.
[15] Cable from Bilfinger dated 30.08.45 (ICRC Archives)
[16] According to some sources twelve, according to others, fifteen. It is interesting to note that a few days later, the Americans also send relief to Nagasaki. Junod was still in Hiroshima at that time.
[17] M. J., Report dated 09.11.45, (ICRC Archives)
[18] He was the first European doctor to go to the scene.
[19] Dr. Matsunaga, who accompanied Junod throughout his stay in Hiroshima, saw him take copious notes, in addition to annotations in his diary. Unfortunately, they have not been found yet.
[20] Very Anglophile, Georgette ("Jo") Junod decides to give birth in London where lives one of her sisters-in-law and a very close friend, Norah Hartley. She makes the train trip from Geneva to London with her brother-in-law Victor Ceresole, and they arrive on August 20, 1945. They had to make a curious couple: she was 1m 54 tall, and he 2m 09. In the compartment, a traveler asks : "Where are you going?" She answers: "In London, we work in a circus ...".
[21] See documents at the Federal Archives, Berne.
[22] A lawyer, diplomat and statesman, Max Huber (1874 - 1960) was President of the ICRC from 1928 to 1944. Both Huber and his successor Carl Jacob Burckhardt (1891-1974, ICRC President 1944-1948) greatly appreciated the dynamism and Junod's honesty.
[23] (1894-1965), founder and first Executive Director of UNICEF (United Nations Emergency Fund for Children)
[24] The following information is based on reports by MJ on his activity in China, cross-checked with two highly informative books by Black and Hanson (see bibliography). An overview is also found in the text of a lecture given by Marcel Junod to the Anglo-Swiss Society of London on April 3, 1952.
[25] For example, 500 superb X-ray equipment had been imported from the US by UNRRA at the request of the Chinese Government, 480 of which were rotting in a warehouse because there were only 20 Chinese doctors who knew how to use it.
[26] It is in the UNICEF archives under the reference CF/RAD/USAA/DB01/1997-05727
[27] Mrs. Junod and her son will leave Shanghai by boat, at the moment when the revolutionary troops took the city; their boat managed to get out of the harbor, while the one who was following was sunk by a shell.
[28] In December 1956 he brought Hewer to Geneva, where he and a small group of experts developed a portable, lightweight narcosis machine that could be parachuted into relief posts in conflict situations. A prototype will be manufactured by Carba. S. A., but will not be marketed.
[29] Fellow of the Faculty of Anaesthesia of the Royal College of Surgeons.
[30] He will receive it between Pius XII and Eleonor Roosevelt.
[31] ... after two years of procrastination. Junod is appointed on October 9, 1954.
[32] Holidays in Cadaqués 1954-1956, then in Port-Lligat (1958-1960), where he will meet Dali many times.
[33] Marcel Junod should have presided over it. Fortunately, the event went perfectly thanks to the effectiveness of Dr. Bronner and the support of Dr. Pierre Koenig.
[34] (1907-1972). The Deonna lived in summer at the Beillans.
[35] Told later by Melchior Borsinger.
[36] By pure chance and chronology, he is buried next to another delegate of the ICRC, George Olivet, killed in Congo in 1960.
[37] This decoration was awarded to him for his work in the repatriation of Koreans and the release of Japanese fishermen who were detained in Korea.